We are proud to be a full-service grooming salon designed specifically for felines. With state-of-the-art equipment, specific service rooms and years of experience, our PURRologists are able to offer your kitty a safe and enjoyable grooming experience.
Please visit our sister salon,
FURology Pet SPaw, for dog grooming services.


SPaw Baths
Kitten SPaw

Starting at $35

We provide this service for kittens under 6 months of age.
Included is a bath/dry, nail trim, ear cleaning and brush out.



| | |
| --- | --- |
| PURRfectly Clean SPaw | Starting at $65 |
| | |
| --- | --- |
| This is our complete service that helps to maintain a healthy coat and skin balance. It is suggested to be done every 4-8 weeks depending on your cat's needs. With routine grooming there will be reduced shedding or concerns with hairballs. This service includes a nail trim, ear cleaning, bath and safe face wash, and hand drying . To finish, there is a thorough brush out to remove loose undercoat or small tangles, and a sanitary trim if needed. | |
| | |
| --- | --- |
| De-Shedding SPaw Treatment | Starting at $110 |
| This service is for cats that have a shedding problem or for the pet parent with allergies. This upgraded SPaw package includes everything in the PURRfectly Clean SPaw, plus a custom shampoo/reconditioning process, a hand drying, a de-shedding brush-out and a final brush to remove as much undercoat as possible without cutting the coat. Our gentle de-shedding product is designed specifically for cats and will not damage any aspect of the coat. This SPaw treatment is a great option for full coated cats. | |
Our Monthly Maintenance Grooming Package


This service package includes a nail trim, ear cleaning, brush out to remove loose undercoat or minor tangles, and a sanitary cut if needed.

Please note: Your pet must have had grooming services at PURRology in the last 6 weeks to qualify for this monthly maintenance package.





3 visits in a 4 month period: $120

6 visits in an 8 month period: $240

10 visits in a 12 month period: $360
In addition to our basic bath services, we offer a variety of grooming options to suit your pet's needs.
Grooming options at PURRology will be determined by a number of factors specific to your cat. These would be, but are not limited to, the cat's condition, age, temperament, coat type, breed, as well as the preferences of the individual owner.
Below are some examples of available grooming options that can be done on most breeds of cats. Once we see your cat in person, we can better determine what choices would be suitable.
Please Note: We are happy to attempt any service requested. However, your pet's comfort and tolerance is the deciding factor. If we feel that the stress level is too high or your pet is not tolerating the experience, the grooming process will be terminated. Your pet's health and safety is our top priority.
| | |
| --- | --- |
| The Kitten Cut | Starting at $105 |
This style will produce a plush "teddy bear look". An approximate 1/2" - 3/4" of fur will be left overall. It is perfect for those who would like their cat to have a short but not shaved look. The tail can be trimmed to your request: fully trimmed or a small pom-pom style. This is a great option for those older pets whose skin may be at risk during a regular shaving.

* See information below regarding knots and tangles charges.



| | |
| --- | --- |
| The "Dash Cat" Service | Starting at $60 |
| | |
| --- | --- |
| This is a favorite among the busy or impatient kitties. It does not include the bath, but offers a quick brush or shave and nail trim. | |
| | |
| --- | --- |
| The Lion Cut | Starting at $90 |
The Lion Cut is a short shave for your cat with definite lines. The body is shaved close, just leaving the ruff and head full. The legs are shaped to a certain point, and the tail can be left full or with a pom-pom.


The Lion Cut is often used to make the cat more comfortable and can be used to make a cat cooler. It is a good option to remove mats and tangles. This cut can be done on long or short hair cats.

For cats needing a Lion Cut due to severe matting, pricing starts at $250 for the initial appointment and includes a follow-up appointment after 8 weeks. At this second visit, your cat will receive our PURRfectly Clean SPaw. We will also discuss a regular grooming schedule that will benefit your pet.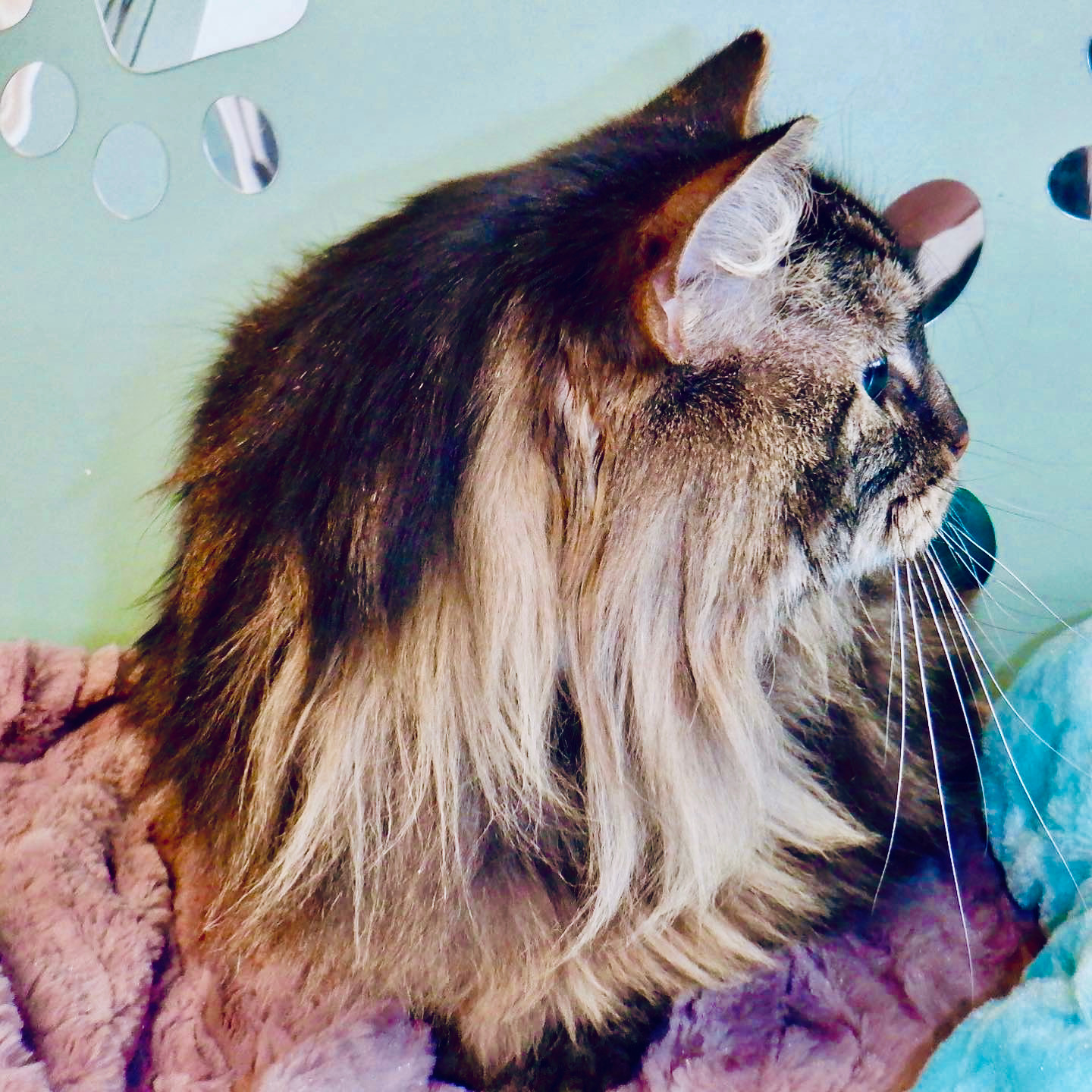 Knots and Tangles

The prices quoted above assume the cat has minimal to no knots, tangles, or matting. Cats that are matted will be quoted additional fees during check-in based on the time required to safely remove the mats. Please speak with your PURRologist upon check-in for more information.

Paw la Carte Services

All Paw la Carte Services begin with a nail trim to establish the pet's tolerance and comfort with the grooming experience.
Nail Trim………. ………….$15
Nail Trim………. ………….$25+ if assistance needed
Soft Paws Application……$33 front/$43 front/back (with no assistance)
These nail caps are a great alternative to de-clawing and are extremely safe and non-toxic. They are available in a variety of colors suit any occasion or personal style. Includes a nail trim.
Toe Tuft Trim………………………Starting at $5
Toe tufts are bits of fur that stick out on cats with a medium to long coat. These long tufts may become matted, allowing litter to be tracked out of their boxes and can even harbor bacteria.
Brush Out………………….Starting at $10
Sanitary Shave……………Starting at $5
Long hair kitties can have difficulty keeping their bottoms clean due to size or age. A sanitary trim keeps the hair short in those special areas and is included in our full groom. Fur must be mat and feces free to receive this as a Paw la Carte service.
Belly Shave……................Starting at $20
Shaving the belly can help prevent matting and keep your kitty more comfortable. It is an extended sanitary trim. The shaved area should not affect the overall appearance and their coat should still have that same full look. Fur must be mat and feces free to receive this as a Paw la Carte service.
Ear Cleaning………………Starting a t$10
This cleaning wipes wax and debris out of the ear.
Teeth Treatment…………………Starting at $10
This treatment involves the application of an oxidized dental gel that when combined with a cat's saliva helps to clean the teeth, promote healthy gums and freshen the breath.
Do you need grooming for your canine friend? Please visit our sister salon,
FURology Pet SPaw which caters to dogs. We will be happy to care for your canine friend.