At PURRology SPaw & Retreat, was created and designed to service cats. We groom cats using the highest quality products designed specifically for felines, in addition to professional grooming tools and advanced techniques.
We do not groom dogs in our facility. Please visit our sister salon, FURology Pet SPaw, for information regarding you canine friend.
Lindsey, Owner of PURRology SPaw & Retreat and FURology Pet SPaw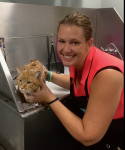 With over 25 years of experience working with cats, Lindsey has always wanted to create a facility exclusively for cats. PURRology, Inc. was designed to offer an experience unique to felines with specific attention to their safety and comfort needs.
Do cats like getting a bath?

Most do not mind being bathed. We use special calming and bathing techniques to ensure a relaxing SPaw experience.

No, we do not sedate cats. We handle each cat in such a way that the need for drugs of any kind is not necessary.
We use the Catty Shack Vac patented drying system designed specifically for cats. This means we can offer the most efficient drying process and produce the highest quality groom in the end.
Will it hurt my cat to be groomed?

It can hurt your cat NOT to be groomed! Cats that are not groomed are prone to serious matting problems, skin conditions, painful ingrown nails, and a variety of other problems that, if left unattended, can cause irreversible damage or even death. Because a groomer is handling a cat on a regular basis and looking over every inch of its body during each visit, health issues that may arise can be found early on and the likelihood of effective intervention is increased.
Do you need grooming for your canine friend? Please visit our sister salon,
FURology Pet SPaw which caters to dogs. We will be happy to care for your canine friend.